Our History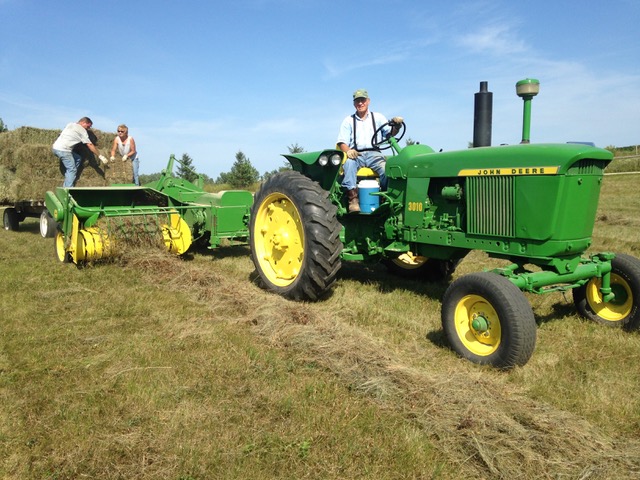 For 7 years, founder, Jeff Bremer, ran a small hay business called FreedomOne Farms. He grew and sold hay from their 45 acres of tillable land. Most of this hay was put up in small squares the old fashioned way, using 50-year old tractors and balers, and lots of young helpers. What simply began as a way to fund various ministry initiatives Jeff was working on, unexpectedly turned into a thriving business. Friends and neighbors began freely offering various plots of land to make hay from. Some even offered them additional hay equipment to use.
After a couple years, Jeff found himself running over 75 acres of hay ground and putting up over 10,000 small squares per year. This was a lot, considering the age of equipment being used and the amount of labor required for baling mostly small squares. As Jeff built a simple website to market their hay to local buyers through, the business began to rapidly grow. Their customer base grew to encompass a 150+ mile radius, with some customers coming as far as Texas and Tennessee for hay.
Eventually, the hay business became overwhelming as it was consuming all of Jeff's time, plus all the manual labor was taking a toll on his body. He struggled with what to do since the idea of laying down a business in which he was being so blessed didn't make sense. Then one day a friend prayed for Jeff and told him that God was going to give him a vision for a new business, something that had never been done before. This sounded crazy to Jeff as he had absolutely nothing in mind regarding any other business endeavors. However, less than two weeks later, as Jeff was complaining on the phone with a friend how overwhelmed he was with the hay business, the idea of starting an online auction/listing website for hay came to mind. Jeff initially saw it as an "eBay-type platform", but exclusively for selling forages on. After doing some research, he found nothing out there like it. As Jeff continued praying into this vision, he began getting download after download of ideas that were eventually incorporated into what is now the TruBid Hay Exchange.
After an exhausting 2.5 years in development, the TruBid Hay Exchange would be officially launched in August, 2021 as an online marketplace providing buyers and sellers a "Trusted & True" environment to buy and sell hay and other forages. The original purpose behind the initial small hay business continues to remain today; to fund God's kingdom/ministry initiatives.